Customer Reviews
03/08/2021
H***

Austria
Good
Great toy, but my child was scared when he first saw it. Now he is really starting to love it!
03/08/2021
M****

Austria
Good customer service
Unfortunately, the toy arrived broken first. I contacted support and they sent me a new one straight away.
03/05/2021
S***

FR

🐳 Whaley, the water sprinkler!
Kids are totally in love with this bath time toy! Let your child discover the wonder of deep sea whales while bathing with Whaley the Water Splash Toy! Now they'll look forward to taking a bath of their own and having lots of fun doing it.

"I have a 3 year old and a 1 year old. I picked these because they both love the bath, but get bored very quickly once I turn off the water spout. These are so great! I love that they are white/gray when they are off (not obnoxious like most bath toy options) and then as soon as they touch the water, they light up and squirt water. Both kids loveeeee them!!! My 1 year old is nonstop these days, so it's really nice to have him contained in the tub and have these actually keep him busy for a solid amount of time.", Constance H.

"These are SO FUN!!! I gave my 3 month old a bath and he couldn't stop smiling and watching these the whole time!", Flora A.

"Wow, I These little whales are cute bath toys. My daughter has taken about 5 baths with them and so far so good, they have kept working.", Hannah O.

"We are always looking for fun new toys for our bath loving toddler so I finally decided on this. The two whales are exactly the same except for the color and they are packaged separately, so we gave the second one to a friend so we wouldn't have too many toys in the tub. I like that it is simple and doesn't require an on/off button. It also stops running as soon as it is removed from the water, which prevents accidental battery waste (my daughter likes to drop things out of the tub). After two weeks of almost daily use, we haven't had to change the batteries yet.", Maddie K.
The colorful LED light effects flash when you take a bath, providing a cool visual effect that your child is sure to love. The Splash Whale toy can automatically trigger splashing water and flash colorful lights when you put the toy in the water. This will bring endless entertainment and joy for your child!

This camera not only looks beautiful, it is also very easy to use! ... and of course without smeared walls. Children have a lot of fun with our camera, make your children happy too! Just print it out and paint it!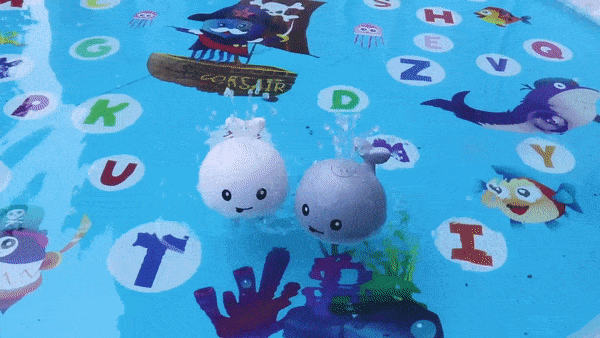 WATERPROOF & SAFE FOR BABIES
100% Waterproof & safe for babies to play with during bath time. The battery box is made with high quality sealed silicone to prevent water from leaking and seeping in. The toy itself is made of high quality durable ABS material.
The Splash Whale bath toy has an automatic sensor function once you press the power button. Take it out of the water and the sprinkler will stop.

Just insert 3X AAA batteries (not included) into the bottom.

Place Whaley into water ...

.. and watch your little one playing with it.

Just insert 3X AAA batteries (not included) into the bottom.


Watch Whaley driving around